Today, I'm sharing my family's recipe for chocolate truffles! I'm not usually a very "Christmasy" girl. But with everything we've been through these last few months and the birth of my daughter, I wanted to mark the occasion a little more this year. In my family, we are team "petits fours" at Christmas (we spent HOURS rolling marzipan with my sisters. So, for this month's foodista challenge, on the theme of chocolate, my recipe was ready.
Origin of chocolate truffles
At home, it is a family recipe, but the chocolate truffle originated in December 1895. It is indeed a chocolate confectionary invented in Chambéry by Louis Dufour, a pastry chef and chocolate maker. Fun fact, he is the great-uncle of Maurice Opinel, heir of the famous knives.
Composition of the chocolate truffles
There are several recipes for chocolate truffles. The base is common with chocolate, butter and cream. It is actually a simple ganache with a little butter so that the truffles harden enough. Some recipes also contain sugar and eggs. Personally, I don't recommend choosing a recipe with eggs because it limits the conservation of the truffles. But you can spice up your chocolate truffles by offering several coatings: powdered sugar, unsweetened cocoa, crushed hazelnuts… All the madness is allowed!
Which alcohol to flavour truffles?
If you plan to make sweets only for adults, you can flavour them with a little alcohol. To match with chocolate, several possibilities: whisky, grand marnier, orange liqueur, brandy… In this case, you can add 50 g of alcohol to your truffles. A little tip: you can divide your ganache in 2 parts and flavour only one part with alcohol. Use a different coating to be able to distinguish the truffles with alcohol from the others!
Course of the recipe
As I told you above, truffles are just the hardened version of a chocolate ganache with a little butter. The good news is that this is a very easy recipe (and if you ever mess up your ganache, run to my article on how to fix it).
To begin, chop the chocolate with a knife or even a food processor (as Richard Sève does for his macaroons).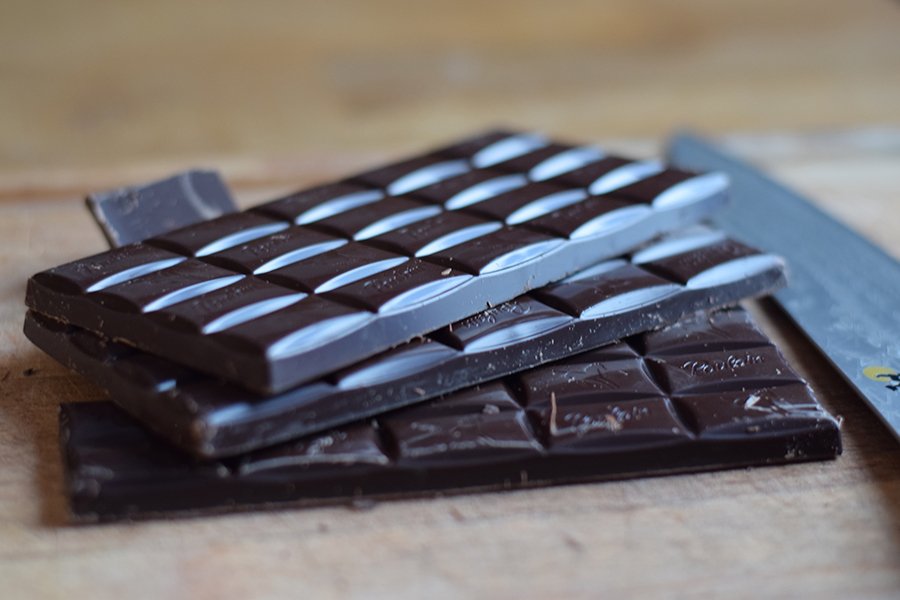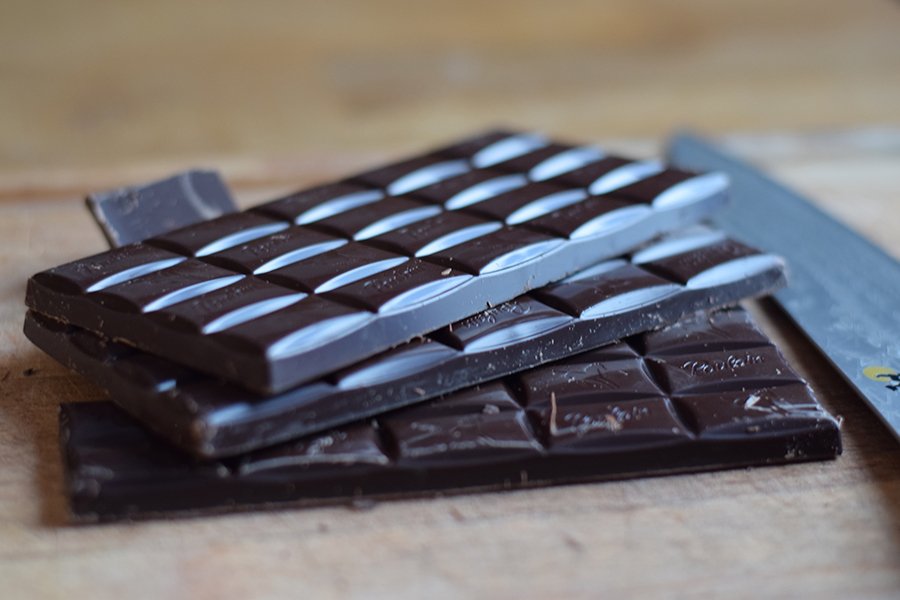 Bring the cream to a boil in a heavy-bottomed saucepan. When it is hot, pour the first third over the chocolate and mix.
Repeat twice until the ganache is smooth. Add the melted butter and let cool for at least 2 hours in the refrigerator.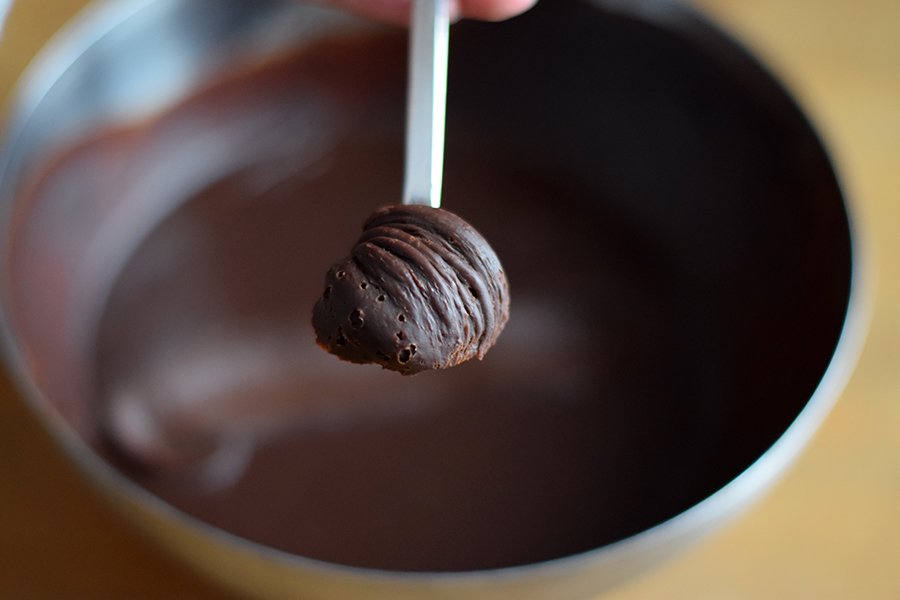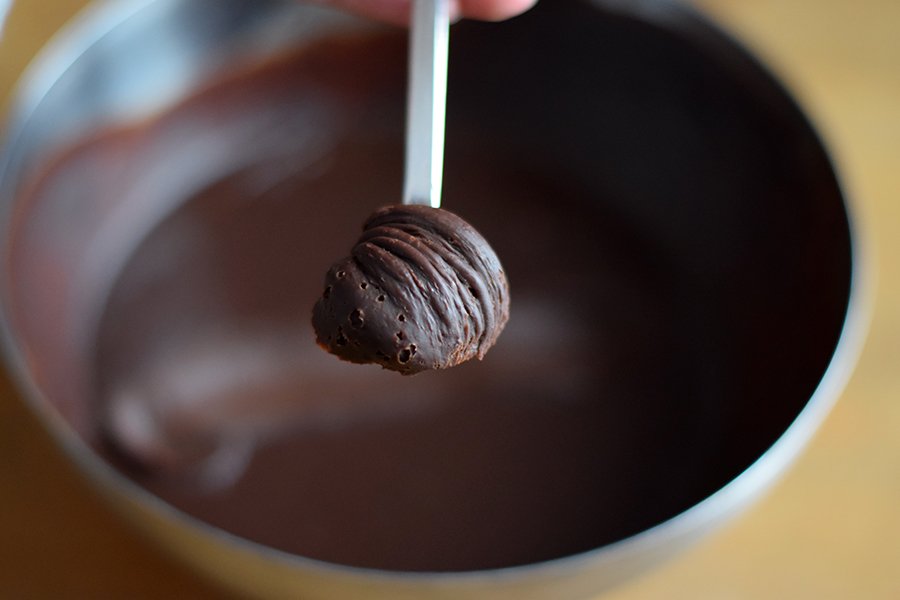 Rolling the truffles
When the ganache is cold, you just have to take a small ball of ganache and dip it in the filling: cocoa without sugar, powdered sugar, crushed hazelnuts… To do this, you can use a spoon or do it by hand (personally I do it by hand but you have to admit that you put it everywhere!). It's a little more complicated to do it by hand because the heat of the body warms up the chocolate, so you have to work pretty fast.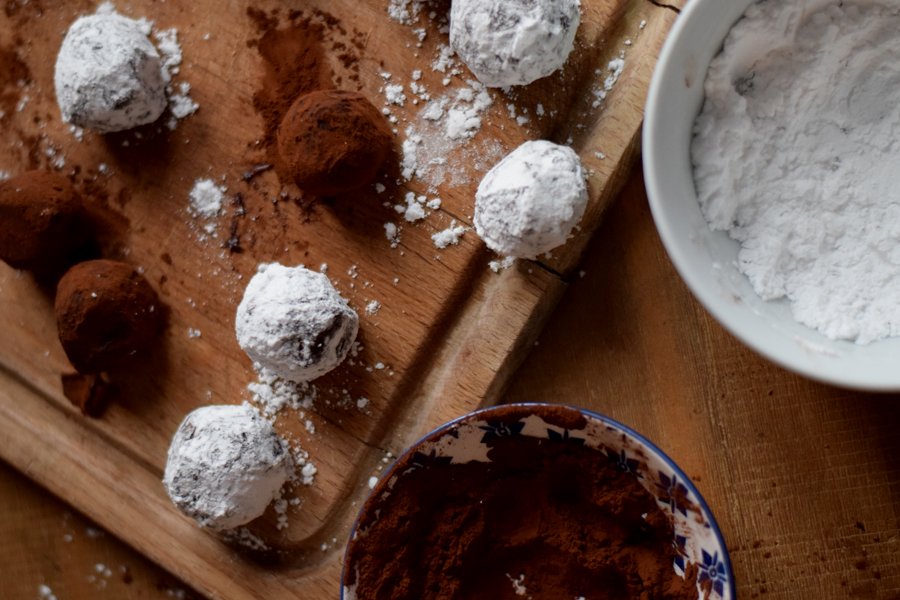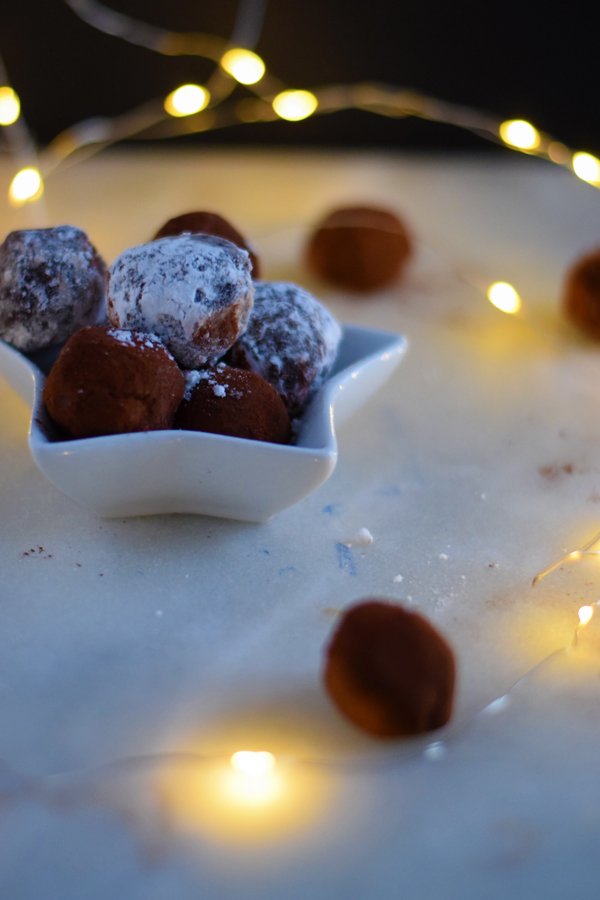 How to store homemade chocolate truffles?
This recipe does not contain eggs and the cream has been boiled, so it is quite safe. I personally keep my chocolate truffles in my fridge. I can't tell you exactly how long because I think they have always been devoured in 3 days… I think you can easily keep them for a week in the refrigerator.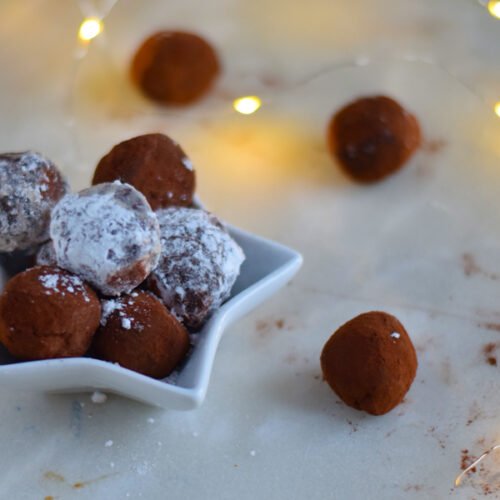 Chocolate Truffles
The family chocolate truffle recipe!
Ingrédients
3

cup

of black chocolate

7

oz

of liquid full cream

2

oz

butter

sugar-free cocoa

icing sugar
Instructions
Chop the chocolate finely.

Boil the cream and melt the butter.

Pour the boiling cream on the chocolate in 3 times and mix well to make the ganache.

Allow to set in the refrigerator for at least 2 hours.

Take out the ganache and make balls. Dip in cocoa or powdered sugar.